This veggie-packed omelet is perfect for brunch or a simple supper. For a delicious side, serve a medley of fresh fruit, such as Mandarin Oranges with Kiwifruit and Grapes.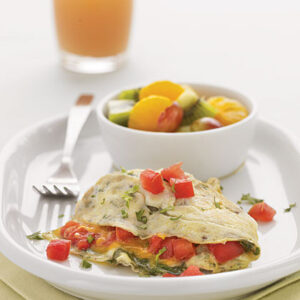 Credit: Oxmoor House
Cooking Light Fresh Food Fast Weeknight Meals
Nutrition Facts
Per Serving:
147 calories; fat 7.7g; saturated fat 3.4g; mono fat 3g; poly fat 0.9g; protein 13.9g; carbohydrates 3.8g; fiber 0.5g; cholesterol 190mg; iron 1.4mg; sodium 510mg; calcium 132mg.